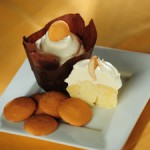 Our Daily Menu. Sounds great. Tastes even better. Decadent buttercream and cream cheese frostings. Velvety smooth and enticing pastry creme fillings. Plus our signature cakes that simply take the cake. From the delectably different to traditional favorites, our daily menu features a wide selection of gourmet cupcakes and other specialty baked goods.
We are now introducing new products that we hope everyone will go crazy for. Celebration cakes! Whether its a birthday cake or a magical wedding cake, our bakers will now be able to provide delicious tasty cake designs for everyone. Want to see some? Then make your way to www.cakeinabox.co.uk for some tasty custom cakes creations.
From vanilla sponge cake with cream filling, to belgian chocolate, to carrot cake and mouth watering Red velvet we will provide it all.
Our cake range will cater for all ages, from kids to adults, so if you need a first birthday cake or even a 70th birthday cake you can rely on us to create for you. To get us started look for Cakeinabox and you find some helpful designs that we will be offering. Obviously this is not the full catalogue, customers will have the ability to create their own customs designs! We cant wait to create them for you.
For customers seeking works of art for their special wedding day, we would recommend Top Tier cakes. With over 25 years of excellence the bakery team at Top Tier is highly professional and offer a service second to none. From traditional designs to contemporary weddings, the selection available is vast with customers also able to create their own custom cake designs. Simply go to www.toptiercakes.co.uk and view the gallery for the desired theme. Price range depends on the size of cake needed. All budgets are catered for but me warned some elaborate designs can be expensive. You only get what you pay for in this world. Be assured these cakes are to die for.